A guide to latching your baby
Snuggle your baby against your body so he is tummy to tummy (front to front) and lean back comfortably. Most mothers like to hold the baby with the same side arm as they are nursing from, or with both hands. The more you lean back, the more gravity helps hold baby, and the less strain on your arms.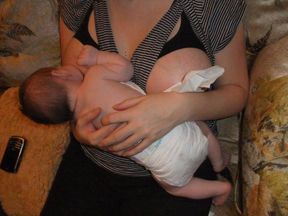 Babies find the breast by feel and smell. Cuddle your baby in a comfortable position so your nipple touches that cute notch right above her upper lip, and her chin snuggles against your breast.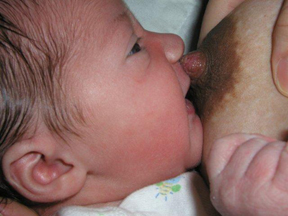 She will then open her mouth wide.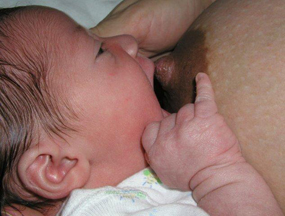 It will look like she won't be able to get her upper lip past the nipple.
She'll tilt her head back a little bit and lunge in for a good mouthful. If her nose is blocked, snuggle her bottom close to your body and slide her a little toward your other breast.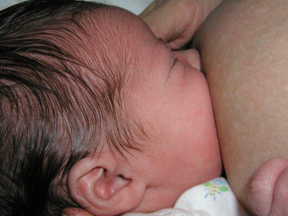 If this doesn't work for you, try leaning even farther back, so your nipple points up in the air. Then turn your baby so he is laying on your chest, with his face aligned to the breast the same way as in the latch photos above.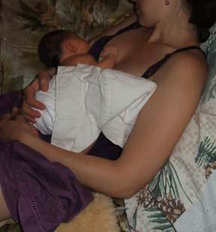 If you need to shape your breast a little to define a better mouthful, you can do this with one finger above or below the nipple, or a finger above and a finger below.
If these things don't work, express milk very frequently (at least 8 times a day) to feed your baby, and get in-person help!